Valentine's Day has come again. And with it comes all the predictable, but no less hurtful, erasure of experiences outside the cultural 'norm'. So I wanted to do a short series of posts recommending stories that feature identities which don't usually register on the cultural landscape.
Really, this series could be endless. But I wanted to focus particularly on some of the less 'mainstream' identities of the LGBTQIA+ community. I'm aware that all of the identities included under the umbrella acronym suffer marginalisation, but I know that lists such as in this series do already exist for the, if you like, 'headline' identities. I want to do something for those people who receive even less acknowledgement and validity, who can't just google '______' characters in fiction' and get an easy-to-reference result.
So in the week of Valentine's Day, I'll be posting rec lists for aromanticism, asexuality, demisexuality/demiromanticism, pansexuality/panromanticism and polyamory. I could do plenty more – and I have ideas for several more – but I want to keep this series short in order to make sure that all these lists are researched and resourced to the best of my ability. If you feel there's an identity that I've overlooked, please do let me know! I'd love to expand this series if that's something people would be interested in.
Once the whole series is posted, I'll do a summary post linking them all together, which you will be able to click through to here.
So, second up, eleven books with asexual characters! This list is basically where my TBR is at right now – I am asexual, so I'm personally invested in gathering as many books as I can in this category. I've only recently discovered that you can actually get asexual characters in books *gasp* so I'm very excited to read books like these. For those that I've already read and reviewed, I've linked the review to the book's entry below.
Every Heart a Doorway (Wayward Children book 1) by Seanan McGuire
Children have always disappeared under the right conditions; slipping through the shadows under a bed or at the back of a wardrobe, tumbling down rabbit holes and into old wells, and emerging somewhere… else. But magical lands have little need for used-up miracle children.
Nancy tumbled once, but now she's back. The things she's experienced… they change a person. The children under Miss West's care understand all too well. And each of them is seeking a way back to their own fantasy world.
But Nancy's arrival marks a change at the Home. There's a darkness just around each corner, and when tragedy strikes, it's up to Nancy and her new-found schoolmates to get to the heart of the matter. No matter the cost.
The main character is asexual.
We Awaken by Calista Lynne
Victoria Dinham doesn't have much left to look forward to. Since her father died in a car accident, she lives only to fulfill her dream of being accepted into the Manhattan Dance Conservatory. But soon she finds another reason to look forward to dreams when she encounters an otherworldly girl named Ashlinn, who bears a message from Victoria's comatose brother. Ashlinn is tasked with conjuring pleasant dreams for humans, and through the course of their nightly meetings in Victoria's mind, the two become close. Ashlinn also helps Victoria understand asexuality and realize that she, too, is asexual.
But then Victoria needs Ashlinn's aid outside the realm of dreams, and Ashlinn assumes human form to help Victoria make it to her dance audition. They take the opportunity to explore New York City, their feelings for each other, and the nature of their shared asexuality. But like any dream, it's too good to last. Ashlinn must shrug off her human guise and resume her duties creating pleasant nighttime visions—or all of humanity will pay the price.
Two asexual protagonists, f/f romance.
Chameleon Moon by RoAnna Sylver
The city of Parole is burning. Like Venice slips into the sea, Parole crumbles into fire.
The entire population inside has been quarantined, cut off from the rest of the world, and left to die – directly over the open flame. Eye in the Sky, a deadly and merciless police force ensures no one escapes. Ever. All that's keeping Parole alive is faith in the midst of horrors and death, trust in the face of desperation… and their fantastic, terrifying, and beautiful superhuman abilities.
Regan, stealth and reconnaissance expert with a lizard's scales and snake's eyes, is haunted by ten years of anxiety, trauma and terror, and he's finally reached his limit. His ability to disappear into thin air isn't enough: he needs an escape, and he'll do anything for a chance. He joins forces with Evelyn's family: the virtuosic but volatile Danae, who breathes life into machines, and her wife Rose, whose compassionate nature and power over healing vines and defensive thorns will both be vital to survive this nightmare. Then there's Zilch, a cool and level-headed person made of other dead people, and Finn, one of Parole's few remaining taxi drivers, who causes explosions whenever he feels anything but happy. Together, they have a chance. 
The author is ace, and there are asexual main and side characters (some more explicit than others). You can read my review here.
As Autumn Leaves by Kate Sands
Sixteen-year-old Kayla Caruso, once a well-liked cheerleader, knows that something sets her apart from her classmates. Her reluctance to have sex with a boy she was seeing earned her both the title of "Ice Queen" and the disdain of the other students. Bullied and alone, Kayla finds solace in one of her dwindling group of friends. Althea Ritter is a volleyball star and rumoured to be a lesbian. As Kayla's interest in Althea grows, so does her confusion. Is she attracted to men or women? Both? Neither? Why does sex even have to matter? Kayla explores her muddled feelings, trying to discover where she fits in, and soon realises her identity might not be as simple as gay or straight.
Asexual protagonist.
Tash Hearts Tolstoy by Kathryn Ormsbee
After a shout-out from one of the Internet's superstar vloggers, Natasha "Tash" Zelenka finds herself and her obscure, amateur web series, Unhappy Families, thrust into the limelight: She's gone viral. Her show is a modern adaptation of Anna Karenina—written by Tash's literary love Count Lev Nikolayevich "Leo" Tolstoy. Tash is a fan of the forty thousand new subscribers, their gushing tweets, and flashy Tumblr GIFs. Not so much the pressure to deliver the best web series ever.
And when Unhappy Families is nominated for a Golden Tuba award, Tash's cyber-flirtation with Thom Causer, a fellow award nominee, suddenly has the potential to become something IRL—if she can figure out how to tell said crush that she's romantic asexual. Tash wants to enjoy her newfound fame, but will she lose her friends in her rise to the top? What would Tolstoy do?
m/f romance asexual MC.
Angel Radio by A. M. Blaushild
It is on the cusp of summer that strange angels of eyes and wings appear throughout the world, and a week later all of humanity is dead. Except one girl. Months later, Erika Cantor continues to wander her desolate hometown without purpose or answers—until a strange radio broadcast sends her into the dangerous world outside—a world past civilization, whose only inhabitants are monsters and demons.
There, Erika meets Midori, a naive girl with a cryptic connection to the angels, and Gav, a boy who seems to have knowledge he refuses to share with Erika. The appearance of the mysterious Fex raises even more questions. Can he be trusted?
As Erika travels across Vermont searching for some remnant of society, she learns that there's a reason she survived—that the angels, horrid creatures that they are—have a plan for her.
Asexual alien main character.
The Cybernetic Tea Shop by Meredith Katz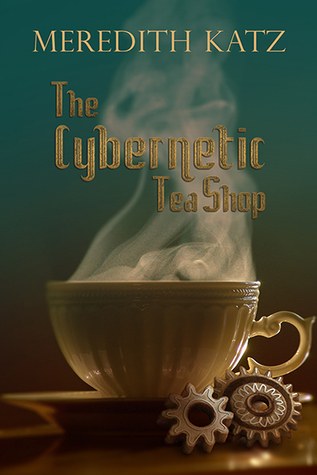 Clara Gutierrez is a highly-skilled technician specializing in the popular 'Raise' AI companions. Her childhood in a migrant worker family has left her uncomfortable with lingering in any one place, so she sticks around just long enough to replenish her funds before she moves on, her only constant companion Joanie, a fierce, energetic Raise hummingbird.
Sal is a fully autonomous robot, the creation of which was declared illegal ages earlier due to ethical concerns. She is older than the law, however, at best out of place in society and at worst hated. Her old master is long dead, but she continues to run the tea shop her master had owned, lost in memories of the past, slowly breaking down, and aiming to fulfill her master's dream for the shop.
When Clara stops by Sal's shop for lunch, she doesn't expect to find a real robot there, let alone one who might need her help. But as they begin to spend time together and learn more about each other, they both start to wrestle with the concept of moving on…
Asexual protagonist, f/f romance. You can read my review here.
Viral Airwaves by Claudie Arseneault
Henry Schmitt wants nothing more than a quiet life and a daily ration of instant noodles. At least until he learns the terrible secret that drove his father away—the Plague that killed his mother and ravaged his country was created by those now in power. He has one chance to help expose the conspiracy: a ragtag band of rebels needs a pilot for their hot air balloon, where they can launch a broadcast revealing the truth. If Henry accepts, he can experience his dream of flight. But he would have to leave his safe, tranquil life behind … and bring the wrath of a corrupt government upon his head.
Author is a-spec, asexual protagonist.
This collection enlisted talent around the world. From students to seasoned professionals, these writers came together to raise awareness and reinvent classic stories. While they showcase a wide variety of origins, styles, and endings, all the tales in this anthology have one classic element in common: a happily ever after.
The only thing on both this and the aro list, since it's a short story collection. Some stories have aro protagonists, some have ace protagonists. You can read my review here.
A Promise Broken by Lynn E. O'Connacht
Not all promises can be kept. Four-year-old Eiryn doesn't understand why her mother left her, but she knows things will never be the same again. When Eiryn tries to call for water during her mother's funeral, everything starts to go wrong. Her uncle is always sad; her best friend is always getting himself into fights; some of the other children hate her… Sometimes Eiryn even struggles to get through the day. She's determined to make everyone happy, though. Eiryn promised and even if her mother won't keep her word Eiryn will keep hers. She'll make everything right again.
Aroace protagonist (also trans and non-binary characters).
Sheepfarmer's Daughter by Elizabeth Moon
Paksenarrion — Paks for short — is somebody special. She knows it, even if nobody else does yet. No way will she follow her father's orders to marry the pig farmer down the road. She's off to join the army, even if it means she can never see her family again.
And so her adventure begins… the adventure that transforms her into a hero remembered in songs, chosen by the gods to restore a lost ruler to his throne.
Here is her tale as she lived it.
Aroace protagonist.
I'd like to repeat my previous thanks and recommendation that you also check out Claudie Arseneault's fantastic Asexual and Aromantic SF Fiction Database to look for further ace-representing titles in speculative fiction. I also found this list from Asexuality in Fiction which is a great place to start looking for more recs.