Valentine's Day has come again. And with it comes all the predictable, but no less hurtful, erasure of experiences outside the cultural 'norm'. So I wanted to do a short series of posts recommending stories that feature identities which don't usually register on the cultural landscape.
Really, this series could be endless. But I wanted to focus particularly on some of the less 'mainstream' identities of the LGBTQIA+ community. I'm aware that all of the identities included under the umbrella acronym suffer marginalisation, but I know that lists such as in this series do already exist for the, if you like, 'headline' identities. I want to do something for those people who receive even less acknowledgement and validity, who can't just google '______' characters in fiction' and get an easy-to-reference result.
So in the week of Valentine's Day, I'll be posting rec lists for aromanticism, asexuality, demisexuality/demiromanticism, pansexuality/panromanticism and polyamory. I could do plenty more – and I have ideas for several more – but I want to keep this series short in order to make sure that all these lists are researched and resourced to the best of my ability. If you feel there's an identity that I've overlooked, please do let me know! I'd love to expand this series if that's something people would be interested in.
Once the whole series is posted, I'll do a summary post linking them all together, which you will be able to click through to here.
As in my previous post for demi- characters, I'm combining these two orientations to make one list of twelve recommendations. I've made it as clear as possible which books represent who, and I've split them as evenly as I could manage. However, a disclaimer that I haven't read any of these, so if I've included any with problematic rep by accident, I'd love to know so I can remove them.
The Blue Codex by Emily Kirby
My name is Trini Cortés. I have always been a fan of heroes, and goodness knows Phoenixport could use a hero. So when Calliope asks me if I wanted to write The Blue Codex and pass a Holy Grail test (not the Grail that Jesus made this one is different) I agree to do it. All I have to do is wear a pouch during the Phoenix Festival. Easy enough right? But strange things are going on in town. A rogue cop is giving good cops a bad name, strange islands are forming, crazy brotherhoods who have their own Chosen One for the Grail , and the local gang, Crew 666, is acting too quiet, which is a sign bad things are about to happen. My sister Gloria has offered her help with her light powers, along with Jazlyn, a kitchen witch Wiccan, and Irene, a half nymph refugee. I even have access to wise advice of Calliope and her wife, Lady Viviane aka. The Lady of the Lake, but I know I have to fight this evil alone with my bubble magic and a mysterious pin given to me. After all a hero can't receive any help, that would just put people in danger. Right?
Panromantic/pansexual characters (not sure how much these intersect).
Alexey Dyed in Red (The Zhakieve Chronicles book 1) by A. M. Valenza 
A century has passed since warlock Alexey arrived in Kalinstad, chased across the ocean and dying from fever. His memories of what brought him to such a state were lost; since then he passed his days quietly, buried deep in the snowy mountains in a place rarely visited by outsiders.
His life of peace is brought to a sudden halt with the arrival of two Darkrow, sent by the Blue Emperor to unravel a mystery they will not explain. More than mere Darkrow, they are demons, dangerous and cold, but also beautiful and fascinating in the way they touch and cling and silently watch.
When they offer Alexey a chance to become a Darkrow, he accepts—and his whole world falls apart.
Tagged with 'panromantic' and 'pansexual' on the publisher's website (Less Than Three Press). The sequel, Breakfire's Glass, is tagged the same.
Out on Good Behaviour by Dalia Adler
Frankie Bellisario knows she can get anyone she sets her sights on, but just because she can doesn't mean she should—not when the person she's eyeing is Samara Kazarian, the daughter of a southern Republican mayor. No matter how badly Frankie wants to test her powers of persuasion, even she recognises some lines aren't meant to be crossed.
But when Frankie learns she's been on Samara's mind too, the idea of hooking up with her grows too strong to resist. Only Sam's not looking for a hookup; she wants—needs—the real thing, and she's afraid she'll never find it as long as Frankie's in her head.
Forced to choose between her first relationship and losing the girl who's been clawing her way under her skin, Frankie opts to try monogamy…under her own condition: 30 days of keeping things on the down low and remaining abstinent. If she fails as hard at girlfriending as she's afraid she might, she doesn't want to throw Samara's life into upheaval for nothing. But when neither the month nor Frankie's heart go according to plan, she may be the one stuck fighting for the happily ever after she never knew she wanted.
Pansexual main character (high sex drive), f/f romance.
How Not to Summon Your True Love by Sasha L. Miller
Though it doesn't really come as a surprise, Cy is still crushed when he's dumped. His relationship with Alex had lasted longer than all previous attempts, and started promising when Alex had proclaimed he was perfectly okay with Cy being asexual.
On impulse, convinced no one will ever really see him as worthy relationship material, Cy turns to a book that belonged to his late mother, a grimoire of magic spells that obviously won't work. It's a stupid idea, and even if magic was real there's no way a true love summoning spell would work for him.
Both protagonists are asexual, at least one is panromantic.
Split City Waltz by Ada Redmond
The London of tomorrow is a city under strain, its people divided by the very technology meant to bring them closer together. At surface level, the capital is a bright, neon lit metropolis. But in the tunnels of the former underground network, an older way of life persists – one where people aren't constantly monitored by artificial implants.
A life-saving surgery has left Allyn Morgan feeling more machine that human, and struggling with a new career as a private investigator, her reputation damaged by the events that got her fired from her job as a security chief. So when a former lover stops by asking for a favor, she agrees to take the job on the promise of an easy paycheck.
But when night rolls around and Allyn finds herself accused of industrial espionage, an under city hacker named Terminal may be the only person who can help her clear her name.
Tagged with 'pansexual' on the publisher's website (Less Than Three Press), f/f relationship.
Jack of Thorns (Inheritance book 1) by Amelia Faulkner
Laurence Riley coasts by on good looks and natural charm, but underneath lies a dark chasm that neither heroin nor lovers can fill. Sobriety is a pipe dream which his stalker ex-boyfriend is pushing him away from. Luckily, Laurence has powers most can only dream of. If only he could control them.
Quentin d'Arcy is the product of centuries of wealth, privilege, and breeding, and is on the run from all three. A chance encounter with an arresting young florist with a winning smile could make him stop. Laurence is kind, warm, and oddly intriguing but Quentin's wild telekinesis and his fear of sex make dating a dangerous game.
Desperate to fix his rotting life, Laurence prays for aid and accidentally summons a fertility god who prefers to be called Jack. Jack is willing to help out for a price, and it's one Laurence just can't pay: he must keep Jack fed with regular offerings of sex, and the florist has fallen for the one man in San Diego who doesn't want any.
If they're to survive Jack's wrath, Laurence and Quentin must master their blossoming feelings and gifts, but even then the cost of Laurence's mistake could well overwhelm them both. How exactly are mere mortals supposed to defeat a god?
Main character is demisexual and panromantic, m/m romance.
27 Hours by Tristan Wright
Rumor Mora fears two things: hellhounds too strong for him to kill, and failure. Jude Welton has two dreams: for humans to stop killing monsters, and for his strange abilities to vanish.
But in no reality should a boy raised to love monsters fall for a boy raised to kill them.
Nyx Llorca keeps two secrets: the moon speaks to her, and she's in love with Dahlia, her best friend. Braeden Tennant wants two things: to get out from his mother's shadow, and to unlearn Epsilon's darkest secret.
They'll both have to commit treason to find the truth.
During one twenty-seven-hour night, if they can't stop the war between the colonies and the monsters from becoming a war of extinction, the things they wish for will never come true, and the things they fear will be all that's left.
Pansexual rep, lots of queer teens in space.
Island of Exiles (The Ryogan Chronicles book 1) by Erica Cameron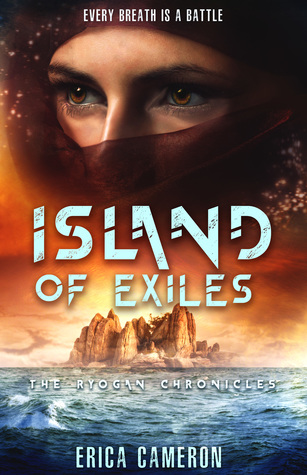 In Khya's world, every breath is a battle.

On the isolated desert island of Shiara, dying young is inevitable. The clan comes before self, and protecting her home means Khya is a warrior above all else.
But when following the clan and obeying their leaders could cost her brother his life, Khya's home becomes a deadly trap. The only person who can help is Tessen, her lifelong rival and the boy who challenges her at every turn. The council she hoped to join has betrayed her, and their secrets, hundreds of years deep, reach around a world she's never seen.
To save her brother's life and her island home, her only choice is to trust Tessen, turn against her clan, and go on the run—a betrayal and a death sentence.
Side character is asexual/panromantic. Sex/gender/orientation seem to be very fluid in this novel.
Seven Ways We Lie by Riley Redgate
Seven students. Seven (deadly) sins. One secret.
Paloma High School is ordinary by anyone's standards. It's got the same cliques, the same prejudices, the same suspect cafeteria food. And like every high school, every student has something to hide—from Kat, the thespian who conceals her trust issues onstage, to Valentine, the neurotic genius who's planted the seed of a school scandal.
When that scandal bubbles over, and rumors of a teacher-student affair surface, everyone starts hunting for someone to blame. For the seven unlikely allies at the heart of it all, the collision of their seven ordinary-seeming lives results in extraordinary change.
Pansexual character.
The Melody of You and Me by M. Hollis
After dropping out of university and breaking up with her girlfriend of three years, Chris Morrison's life is now a mind-numbing mess. She doubts that working at the small neighborhood bookstore is going to change that. The rest of her time is spent mostly playing guitar and ignoring the many messages her mother keeps sending her about going back to college.
But one day, an adorable and charming new bookseller waltzes her way into Chris's life. Josie Navarro is sweet, flirty, and she always has a new book in her hands. The two girls start a fast friendship that, for Chris, holds the promise of something more. But is she reading too much into this or is it possible that Josie feels the same way?
Pansexual main character, f/f bookseller romance.
The Shock of Survival by Nicole Field
In the wake of the final battle against The Oppressor, Benedict, Ophelia and Dylan face their magical community in triumph. But that triumph rapidly loses its shine as they realise the war is not so easily left behind. Returning to, and relearning, the lives they had before proves to be more difficult than even they had anticipated.
Pansexual characters.
Timekeeper by Tara Sim
In an alternate Victorian world controlled by clock towers, a damaged clock can fracture time—and a destroyed one can stop it completely.
It's a truth that seventeen-year-old clock mechanic Danny Hart knows all too well; his father has been trapped in a Stopped town east of London for three years. Though Danny is a prodigy who can repair not only clockwork, but the very fabric of time, his fixation with staging a rescue is quickly becoming a concern to his superiors.
And so they assign him to Enfield, a town where the tower seems to be forever plagued with problems. Danny's new apprentice both annoys and intrigues him, and though the boy is eager to work, he maintains a secretive distance. Danny soon discovers why: he is the tower's clock spirit, a mythical being that oversees Enfield's time. Though the boys are drawn together by their loneliness, Danny knows falling in love with a clock spirit is forbidden, and means risking everything he's fought to achieve.
But when a series of bombings at nearby towers threaten to Stop more cities, Danny must race to prevent Enfield from becoming the next target or he'll not only lose his father, but the boy he loves, forever.
Pansexual clock spirit, m/m romance.
I would, once again, like to give huge thanks and credit to Claudie Arseneault's Aromantic and Asexual Speculative Fiction Database – it's not designed with pan rep in mind, but it was a great starting point for my digging. And in case you don't know, Less Than Three Press categorises their books by identity, which makes it super easy to find what you're looking for.